John Thompson
Palm Island is a paradise
Green jewel in blue ocean
On Palm Island a young man died
Mulrunji was his name
The police, they took a man away
Green jewel in blue ocean
That young man he died that day
Mulrunji was his name
Broken body on the watchhouse floor
Green jewel in blue ocean
A place that he'd not been before
Mulrunji was his name
Seargent Hurley beat him, now he's dead
Green jewel in blue ocean
"Do you want some more?" the seargent said
Mulrunji was his name
No policeman need go to court
Green jewel in blue ocean
White man's freedom with black blood bought
Mulrunji was his name
It was an accident, no-one's to blame
Green jewel in blue ocean
If that's the judgement, we wear the shame
Mulrunji was his name
The men of Palm are dying yet
Green jewel in blue ocean
Until there's justice, we mustn't forget
Mulrunji was his name
Palm Island is a paradise
Green jewel in blue ocean
On Palm Island a young man died
Mulrunji was his name
Palm Island is a paradise
Green jewel in blue ocean
On Palm Island too many die
Mulrunji was his name
A death in custody in 2004 led to the first ever trial of a white policeman over the death of a black man in a cell in Queensland history. After a week long trial, the Sergent Hurley was acquitted.
There were disputes between police and family regarding the events which led to the death. Undisputed was the fact of the dead man in the cell, his liver all but torn in two, the force "like that seen after a car accident" according to one medical witness. The riot which followed saw police swarm over Palm Island, a blighted tropical paradise off Townsville, the police station burnt down, one man convicted of riot, and ultimately, on the day the first inquest report was released, the police officers on the island at the time receiving bravery awards from the commissioner.
The legal battles continue over whether the first coroner's report should stand, in which she said:
"I find that Senior Sergeant Hurley hit Mulrunji whilst he was on the floor a number of times in a
direct response to himself having been hit in the jaw and then falling to the floor...

I conclude that these actions of Senior Sergeant Hurley caused the fatal injuries."
The first officers on the scene were known to Sergeant Hurley. On their first night on Palm Island (before their investigation began) they joined him for dinner.
Their investigation found no wrong-doing.
(the original coroner's report was overturned on appeal, a second enquiry being ordered)
The
Crime and Misconduct Commission
site includes full source documents and a timeline of events which ultimately led to the acquittal of the officer involved in the death of this man, and the decision that no police officer should be disciplined as a result of the events leading to and following Mulrunji's death.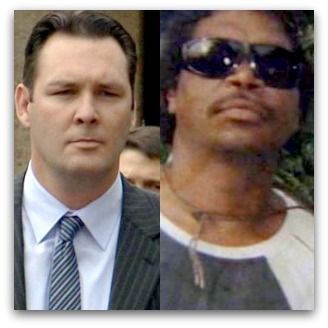 Note: Between 1992 and 1997 I worked with the Legal Aid Office in Townsville, work which took me to Palm Island occasionally. It is a beautiful place with a sad history (
link
). In 2007 I observed the trial of Sergeant Hurley which led to his acquittal.