Trad?/McAlister
Non-flash audio for iPhone, iPad etc
Right-click to download
It's all about bold Frank Gardiner with the devil in his eye
He said "We've work before us lads we've got to do or die
So blacken up your faces before the dead of night
And its over by Eugowra Rocks we'll either fall or fight"
Chorus
You can sing of Johnny Gilbert Dan Morgan and Ben Hall
But the bold and reckless Gardiner he's the boy to beat them all
We'll stop the Orange escort with powder and with ball
We'll shoot the coach to pieces and we'll down the peelers all
We'll lift the diggers' money we'll collar all their gold
So mind your guns are killers now my comrades true and bold
So now off go the rifles the battle has begun
The escort started running boys all in the setting sun
The robbers seized their plunder so saucy and so bold
And they're riding from Eugowra Rocks encumbered with their gold
And as with savage laughter they left that fatal place
They cried "We've struck bonanza boys we've won the steeplechase!"
And Gardiner their leader he shouted a loud "Hooray
I think we've made our fortunes at Eugowra Rocks today"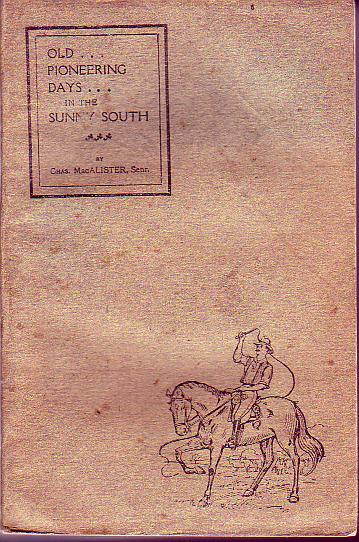 Recorded by AL Lloyd. Originally published in "
Old Pioneering Days in the Sunny South
(1907), a limited 750 copy edition by Charles MacAlister, under the title
The Morning of the Fray
From the
Australian Dictionary of Biography:
GARDINER (CHRISTIE), FRANCIS (1830-1903?), bushranger, was born in Scotland, son of Charles Christie and his wife Jane, née Whittle. The family reached Sydney in the James in 1834 and settled at Boro near Goulburn. He went to Victoria and in October 1850 as Francis Christie was sentenced to five years' hard labour at Geelong for horse stealing. Next March he escaped from Pentridge gaol and returned to New South Wales. In March 1854 he was convicted as Francis Clarke at Goulburn on two charges of horse stealing and imprisoned on Cockatoo Island. In December 1859 he was given a ticket-of-leave for the Carcoar district, but broke parole and went south and by the end of 1860 as Frank Gardiner he had a butchery at Lambing Flat but skipped bail. Known as 'The Darkie', he began highway robbery on the Cowra Road. In July 1861 at a sly grog shop near Oberon he shot and wounded Sergeant John Middleton; Trooper Hosie was also wounded although allegedly bribed to let Gardiner escape.
Gardiner joined up with Johnny Piesley; after ranging the old Lachlan Road they moved to the Weddin Mountains and were joined by John Gilbert, Ben Hall and others. The police under Sir Frederick Pottinger could not catch the gang for it moved too rapidly aided by 'bush telegraphs'.
On 15 June 1862 at the Coonbong Rock near Eugowra Gardiner's gang held up the gold escort and got away with £14,000. Soon afterwards Gardiner, while visiting his mistress Kate, wife of John Brown of Wheogo, narrowly escaped from Pottinger. With her he went to Queensland where as Mr and Mrs Frank Christie they ran a store and shanty at Apis Creek near Rockhampton. In February 1864 he was traced by the New South Wales police and arrested. Tried for wounding Sergeant Middleton with intent to kill, he was acquitted by the jury but found guilty in July on two non-capital charges. Chief Justice (Sir) Alfred Stephen, gave him a cumulative sentence of thirty-two years' hard labour. In 1872 William Bede Dalley, who had defended Gardiner, organized petitions to the governor to use his prerogative of mercy. Sir Hercules Robinson decided that Gardiner had been harshly sentenced and in 1874 released him subject to his exile. This decision provoked a public controversy with petitions, counter-petitions and violent debates in the Legislative Assembly, and led to the fall of Parkes's government.
On 27 July Gardiner embarked for Hong Kong and by February 1875 was in San Francisco where he ran the Twilight Saloon. The press continued to note his activities, including his death in Colorado about 1903, but most reports were unsubstantiated.